Peppermint, Ment.
HPUS
indication of Mentha Piperita:
Dry cough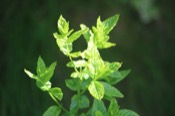 Please see our remedy relationship tool to view relationships across more than two remedies

< < Mentha Piperita- main page

Below are the main rubriks (i.e strongest indications or symptoms) of Mentha Piperita in traditional homeopathic usage, not approved by the FDA.
RELATIONSHIPS
Compare
Compare The Labiatae. agg. From smoke, Ignatia Ign. agg. Fog, Hyper. agg. Rising, amel. lying down, Bryonia Bry. agg. Cold air, Rumex Acetosa Rumex c. Causation.
Relations
Early rising.
REVERSE RELATIONSHIPS
These are relationship sections of other remedies that refer to Mentha Piperita. Where the text is greyed out, a relationship with that remedy is already described above.