Parsley, Petroselinum Sativum, Petroselinum crispum, Petros.
HPUS
indication of Petroselinum:
Piles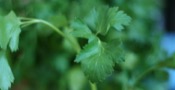 Have you ever used Petroselinum? Yes No


Below are the main rubriks (i.e strongest indications or symptoms) of Petroselinum in traditional homeopathic usage, not approved by the FDA.
GENERAL
General
Carum petroselinum, Benth.
(Petroselinum sativum, Hoffm., Apium petroselinum, L.)
Natural order, Umbelliferae.
Common names, Parsley, Petersilie, Le Persil.
Preparation, Tincture of the whole plant.
Authority, Bethmann, Archiv. f. Hom., 18, 3, 34, symptoms observed.