Pulsatilla Nigricans, Pulsatila, Pratensis, Wind Flower, Pulsat, Pasque Flower Puls.
Available
in 3C-30C, 200C, 6X-30X, 1M-10M, 30C, 200CH from $6.59
Purchase options
HPUS
indication of Pulsatilla:
Weeping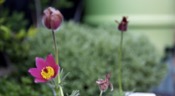 Below are the main rubriks (i.e strongest indications or symptoms) of Pulsatilla in traditional homeopathic usage, not approved by the FDA.


Have you ever used Pulsatilla? Yes No

ABDOMEN
Abdomen
Pain as from subcutaneous ulceration
Dislikes butter ( Sanguinaria Canadensis Sang.) Heartburn
Thirstlessness, with nearly all complaints
Pain in stomach an hour after eating ( Nux Vomica Nux.) Weight as from a stone, especially in morning on awakening
Gnawing, hungry feeling ( Abies c.) Perceptible pulsation in pit of stomach ( Asa Foetida Asaf.) All-gone sensation, especially in Thea Sinensis Tea drinkers
Water brash, with foul taste in the morning.
Painful, distended; loud rumbling
Pressure as from a stone
Colic, with chilliness in evening.
Eating
Stomach; Averse to fat food, warm food, and drink
Eructations; Taste of food remains a long time; after ices, fruits, pastry
Bitter taste, diminished taste of all food
Dyspepsia, with great tightness after a meal; must loosen clothing
Vomiting of food eaten long before
Flatus
Flatulence
≡ more ...