Pulsatilla Nigricans, Pulsatila, Pratensis, Wind Flower, Pulsat, Pasque Flower, Puls.
HPUS
indication of Pulsatilla:
Weeping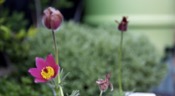 Have you ever used Pulsatilla? Yes No


Below are the main rubriks (i.e strongest indications or symptoms) of Pulsatilla in traditional homeopathic usage, not approved by the FDA.
ABDOMEN
Abdomen
Colic from cold, with diarrhoea; from ices, fruits pastry; from getting feet wet.
Pain in lower chest and abdomen, obliging her to bend forward.
Abdomen and stomach distended; she must unlace.
Pressure in abdomen and small of back, as from a stone; lower limbs go to sleep when sitting; ineffectual desire for stool.
Cutting and dragging in hypogastric region around to loins, making her feel faint.
Painful sensitiveness of abdomen to touch.
Lumps in both groins, hard and painful.
Eating
Pressure in pit of stomach after every meal, vomiting of food.
Crampy pains before breakfast or after meals.
Flatus
Flatulent colic, evening after supper, or at night; oppressive flatulence in upper abdomen and hypochondria; shifting of flatus.
Hypochondria
Darting, tensive pains in hepatic region.
Sticking in region of liver, also, particularly when walking.
Feeling of lassitude in hypochondria.
Stomach
Pain in pit of stomach, during an inspiration; also, on pressure.
Weight as from a stone, early morning on waking; also an hour after eating, better by eating again.
Stitching pains, worse when walking or making misstep.
Gnawing, distress when stomach is empty; pressure and pinching after eating.
Stomach bloated, hard; flatulency.
Perceptible pulsation in pit of stomach.
Gastric catarrh, from ice-cream, fruit and pastry; pain as from subcutaneous ulceration.
Tension from stomach to chest.
≡ more ...