Pulsatilla Nigricans, Pulsatila, Pratensis, Wind Flower, Pulsat, Pasque Flower, Puls.
Available
in 3C-30C, 200C, 6X-30X, 1M-10M, 30C, 200CH from $3.99
Purchase options
HPUS
indication of Pulsatilla:
Weeping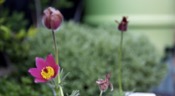 Below are the main rubriks (i.e strongest indications or symptoms) of Pulsatilla in traditional homeopathic usage, not approved by the FDA.


Have you ever used Pulsatilla? Yes No

APPENDIX
Authorities
EYE.
EAR.
SLEEP.
CONDITIONS.
Anemone pratensis, Linn. (Pulsatilla pratensis, Mill.), officinal "Herba Pulsatillae nigricantis."
Natural order, Ranunculaceae.
Common names, Wiesen Küchenschelle.
Preparation, Tincture of the whole fresh plant.
(Nos. 1 to 11, from Hahmemann, R. A. M. L., 2, 273). 1, Hahnemann; 2, Fr. Hn.; 3, Hornhurg; 4, Michler; 5, Rückert; 6, Stapf; 7, Bergius, Mat. Med., p. 519 (general statement, -Hughes), from Anemone sylvestris, L.; 8, Hellwing, Flora campana, Lips, 1719, p. 86, see note by Hahnemann to symptom 776; 9, Heyer, in Crell's Journ., 2, p. 205 (not found, -Hughes); 10, Saur, in Bergius Mat. Med., p. 517 (effects of emanations of evaporating juice, -Hughes); 11, Aut. v. Störck, von der Pulsatille, Frst., 1771), (observations, chiefly on patients, -Hughes); 12, Lembke, N. Z. f. Hom., Klinik, 8, 145, took tincture 2 drops, first day; 5 drops, fifth day; 20 drops, ninth day; 30, twelfth day; 40 fourteenth and nineteenth days; 50, twenty-second and twenty-ninth days; 60 drops, thirty-fourth day; 13, Dr. Robinson, Br. J. of Hom., 25, p. 328, a young woman took a pill of the 30th every second morning; 14, same, a young woman took the 200th in water every third morning; 15, same, a woman took 30th in water every night; 16, same, a man took 200th in water night and morning; 17, a young woman took 200th in water, one dose, same; 18, same, a young woman took one dose of 200th; 19, same, a young woman took 30th in water every third morning; 20, same, a young woman took 30th in water every third morning; 21, same, a young woman took every second morning, in order, the 1000th, 200th, 30th, and 12th; 22, Berridge, Am. J. Hom., Mat. Med., 8, 128, a man took a dose of the "16m.," Fincke; 23, Davis, J. E. L, MS. proving, constant effect of the 3d dil.; 24, Wenzel, Trans. of the Alumni Ass. of the Hasp. Collinsonia Canadensis Coll. of Med., Louisville Med. News, 3, 114, 1877, doses of 10 drops of tincture three times a day, for several days; 24a, same, increased doses; 24b, same, 20-drop doses, thrice daily, for a month; 24c, same, a 40-drop doses; 24d, same continued a week.
≡ more ...