Pulsatilla Nigricans, Pulsatila, Pratensis, Wind Flower, Pulsat, Pasque Flower, Puls.
HPUS
indication of Pulsatilla:
Weeping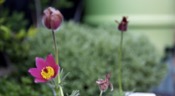 Have you ever used Pulsatilla? Yes No


Below are the main rubriks (i.e strongest indications or symptoms) of Pulsatilla in traditional homeopathic usage, not approved by the FDA.
BACK AND NECK
Back and neck
Pains in sacrum and in back, as from having remained some time in a bent posture, or with rigidity, as from the pressure of a belt.
Sacral pains like those of labour.
Pains in back and chilliness from suppressed menstruation.
Shootings in back, in loins, and between shoulder-blades.
Curvature of spine (upper part). 21. Limbs.
Redness and swelling of joints, with stinging pains.
Anxious, tremulous sensation in limbs.
Drawing, sticking, agg. in joints, which are painful to touch.
Weakness in limbs morning after rising, with relaxation without feeling weary.
Drawing, tearing pains in limbs, shifting rapidly from place to place; agg. at night, from warmth; amel. from uncovering.
Pain in limbs in morning in bed, agg. in joints, forcing him to stretch, with general heat.
On waking the parts on which he has lain are asleep, with crawling and tingling.
Coldness of hands and feet; they seem dead.
Neck
Rheumatic, tensive, and drawing pains in nape of neck and in neck, sometimes semilateral, and often with swelling of the parts, and pains as from subcutaneous ulceration when they are touched.
Cracking in cervical vertebrć and shoulder-blades on moving those parts.
Itching pimples on neck.
Swelling of glands of neck.
≡ more ...