Pulsatilla Nigricans, Pulsatila, Pratensis, Wind Flower, Pulsat, Pasque Flower, Puls.
HPUS
indication of Pulsatilla:
Weeping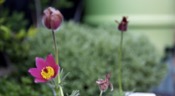 Below are the main rubriks (i.e strongest indications or symptoms) of Pulsatilla in traditional homeopathic usage, not approved by the FDA.


Have you ever used Pulsatilla? Yes No

CHEST
Chest
Dyspnoea, as from spasmodic tension in lower part of chest, below false ribs.
Tickling on sternum.
Attacks of burning in chest.
Movement, quick walking, the open air, and cold agg. the asthmatic symptoms.
Pain as from (subcutaneous) ulceration, or sharp and incisive pain in chest.
Acute suppuration of the lungs.
Shootings in chest and in sides, principally at night and when lying down, and sometimes with difficulty in drawing a full inspiration, inability to remain lying on the side affected, short cough, and paroxysm of suffocation.
(Pain in l. side under heart as if a string were pulling there.)
R. T. C.)
Heart
Congestion of blood to chest and heart, esp. at night, with anxious dreams (e.g., of being immured), with starting up and anxious cries.
Catching pain in cardiac region; amel. for a time by pressure of hand.
Burning in region of heart.
(With menstrual irregularities, chlorosis, &c.; the beat of the heart is felt in the pit of the stomach.).
Anxiety, heaviness, pressure, and burning sensation in heart.
Pulse
Pulse weak and small, but accelerated.
Pulse quick and small; or full and slow; or feeble and almost suppressed.
Respiration
Respiration accelerated, short, and superficial (during the fever), or rattling and anxious.
Respiration impeded, shortness of breath, choking as from vapour of Sulphur sulphur, and fits of dyspnoea and of suffocation, with anxiety, spasmodic constriction of chest or larynx, violent hiccough, cough, headache, and vertigo; principally in evening, after a meal, or at night when reclining horizontally.
Cramp-like and constrictive tension in chest, principally on breathing (on drawing a long breath), and sometimes with internal heat and ebullition of blood.
Stitches in prćcordial region, amel. while walking, with pressure and anxiety, impeding respiration.
Frequent and violent fits of palpitation, principally after dinner and after moral emotions, or provoked by conversation, and often with anguish, clouded sight (vanishing of sight), and impeded respiration, esp. when lying on the l. side.
Hoarseness, which does not permit one to speak a loud word.
Breathing, groaning, or rattling.
Catarrh, with hoarseness, roughness, dryness, scraping, and pain as from excoriation, in larynx and chest.
Attacks of constriction in larynx, principally at night, when lying in a horizontal posture.
Dyspnoea, esp. when lying on back at night, with giddiness and weakness in head.
Difficulty of breathing when walking.
Short, dry cough as soon as he gets warm.
Dry cough whenever he wakens from sleep, disappearing while sitting up in bed, and returning as soon as lying down again.
Dry, severe cough, mostly in morning, with retching and desire to vomit, and sensation as if stomach were turned inside out.
Violent spasmodic whooping-cough, in two consecutive coughs, caused by itching, scraping, with dryness as from vapours of Sulphur sulphur in larynx and chest.
Shaking cough, principally in evening, at night, or in morning, excited by a sensation of dryness or a scraping and tickling in throat, agg. when lying down, and often accompanied by an inclination to vomit, with retching and vomiting, or by a choking, as from the vapour of Sulphur sulphur, with bleeding of nose and rattling respiration.
Cough, with shootings in chest or sides, and palpitation of heart.
Moist cough, with expectoration of white, green, tenacious mucus, or of thick, yellowish matter of a bitter, greasy, salty, or putrid taste (loose cough; with expectoration in morning, without expectoration in evening; with expectoration in day, without expectoration at night).
Expectoration of black and clotted blood during cough (during suppression of menstruation).
Shootings in r. shoulder or in back when coughing.
≡ more ...