Pulsatilla, Pulsatila, Pratensis, Wind Flower, Pulsat, Pasque Flower



Available
in 2X-30X, 200X, 2C-30C, 200C, 1M-50M, CM from $6.50
Purchase options
HPUS indication of Pulsatilla Nigricans: Weeping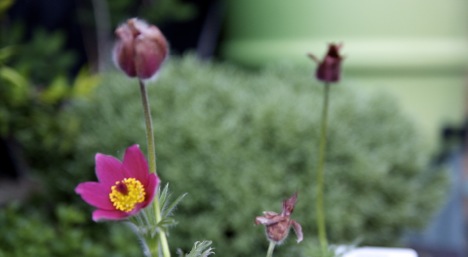 Homeopathic remedies are prescribed on the basis that in a tiny dilution like cures like, so while very dilute Pulsatilla Nigricans may help, unprocessed Pulsatilla may be best avoided.
Below are the main rubriks (i.e strongest indications or symptoms) of Pulsatilla in traditional homeopathic usage, not reviewed by the FDA.
< < Pulsatilla - main page
EARS
Ear
Sensation as if something were being forced outward
Hearing difficult, as if the ear were stuffed
Otorrhoea
Thick, bland discharge; offensive odor
External ear swollen and red
Catarrhal otitis
Otalgia, worse at night
Diminishes acuteness of hearing.
Sensation of air; wind
In children
Coldness; as if frozen
Discharges from ear
blood
catarrh in Eustachian tube (tube connecting ear to nose)
ear-wax
wearing away skin
after measles
offensive smelling
pus
from middle ear
after poisoning by sulphur
after scarlet fever
following disease
suppressed
thick
yellow
h green
As if swollen from inner pressure (see fullness)
on blowing nose
Dryness
Bony growth (exostosis)
Sensation of fullness
when blowing nose
Heat
during chill
inside
Inflammation
skin erysipelas (inflamed from infection, deep red colour)
Eustachian tube (tube connecting ear to nose)
inside
media
Itching; like insects crawling on skin; ear canal
in ear; afternoon
in ear; evening
in ear; burning
external ear
Noises in ear
morning
in bed
afternoon
4 p.m.
evening
open air
during chill
during headache
while lying down
when period suppressed
during movement
moving head
in time with pulse
with vertigo, dizziness
on waking
buzzing
chirping
morning in bed
intermittent
cracking
moving head
crackling
in time with pulse
fluttering sounds
humming
during chill
on movement
in time with pulse
music
evening
evening; on lying down
reverberating, echoes
on waking
ringing
during headache
roaring
open air
rushing
in time with pulse
as of water
as of water; after 4 p.m.
rustling
snapping
tinkling
whirling
whistling
sound of wind
afternoon
Pain
right
night
open air
on blowing nose
during chill
from catching cold
in head
cold applications
during headache
when period is suppressed
maddening
after suppression of shivering fit (fit of cold)
in a warm room
warmth of bed
extending to other parts; extending to eye
extending to other parts; extending outward
extending to other parts; extending to temples
around ear
above ear
inside (in ear canal)
aching
bursting sensation; on sneezing
pulling in ear
jerking
pressing
forward in ear
outward
warm room
above the ear
spasmodic; inside ear
stitching, sudden, sharp
left
during chill
tearing in
left
Perspiration
Pulsation
night
Skin; abscess; in ear canal
abscess; in ear canal; during period
discoloration; redness
ear canal
out-breaks on skin
burning
itching
scabby
powdery flaking skin
behind ears
behind ears; pimples
behind ears; pus-filled pimples
behind ears; powdery flaking skin
on lobes
in ear canal; boils
small projection at front of ear (tragus)
ulceration; inside
Stopped sensation
Swelling
behind
inside (ear canal)
lobes
Tingling
Twitching
Ear wax; black
hardened
Sensation of worms
Hearing
Impaired
alternating with discharge from ear
catarrh of Eustachian tube (tube connecting ear to nose)
after a cold
cold, wet weather
during cough
after measles
from paralysis of the auditory nerve
travelling
after scarlet fever
warm room
Lost, deafness
Too sensitive
on waking