Pulsatilla Nigricans, Pulsatila, Pratensis, Wind Flower, Pulsat, Pasque Flower, Puls.
HPUS
indication of Pulsatilla:
Weeping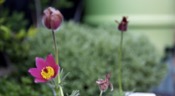 Below are the main rubriks (i.e strongest indications or symptoms) of Pulsatilla in traditional homeopathic usage, not approved by the FDA.


Have you ever used Pulsatilla? Yes No

EARS
Ears
Pain in ears, as if something were about to protrude from them.
Shootings with itching, or sharp, jerking pain, and contraction in and round ears; the pains sometimes come on by fits, affect whole head, appear insupportable, and almost cause loss of reason (may be accompanied by high fever, &c.).
Earache with shooting down to teeth of lower jaw, agg. when warm in bed.
Earache in both ears with violent headache, frontal and occipital, agg. at night.
Inflammatory swelling, heat, and erysipelatous redness of ear and auditory duct, as well as of surrounding external parts.
Painful swelling of bones behind ears.
The cerumen is hard and black.
Bland, nearly inoffensive discharge of mucus and pus from ear.
Discharge of pus, of blood, or of a thick yellowish humour from l. ear.
Discharge from one or both ears, which may come on after measles or any other disease, or may occur spontaneously.
Otorrhoea with throbbing tinnitus.
Warbling, pulsative murmurs, tinkling, roaring, and humming in ears.
Hardness of hearing, as from an obstruction (esp. from cold, from having hair cut, or after suppressed measles).
(Deafness after washing head.)
R. T. C.).
Burning, gnawing scabs at the tragus (with swelling of glands of neck).
Shootings in parotids.
≡ more ...