Pulsatilla Nigricans, Pulsatila, Pratensis, Wind Flower, Pulsat, Pasque Flower, Puls.
HPUS
indication of Pulsatilla:
Weeping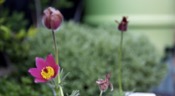 Have you ever used Pulsatilla? Yes No


Below are the main rubriks (i.e strongest indications or symptoms) of Pulsatilla in traditional homeopathic usage, not approved by the FDA.
EXTREMITIES, LIMBS
Extremities, limbs
Redness and swelling of joints, with stinging pains.
Jerking, tearing, drawing in muscles, shifting rapidly from place to place; worse at night, from warmth; better from uncovering; towards evening pains more fixed with swelling of parts, when pains abate some.
Rheumatism caused by getting wet, especially the feet; from protracted wet weather.
Upper extremities
Severe pains in both shoulder-joints.
Hard, painful throbbing; glandular swelling in the right axilla.
Heaviness in arm from shoulders to fingers, numb feeling.
Arms feel as if broken and dislocated; worse on pressure and from movement.
Elbow swollen after a contusion.
Veins in forearms and hands swollen.
Lower extremities
Pain as from festering, in muscles of buttocks, legs and soles.
Jerking pain in hip-joint, extending to knee.
Drawing, heaviness, weariness, in legs.
Legs hot, swollen, with tensive, burning pains.
Knees inflamed, swollen, with shooting pains.
Soft, white, shining swelling of knees.
Jerking, lacerating through left leg and foot, which becomes numb and oedematous; sensitive to touch; better from changing position.
Aching in calves, which are swollen.
Varices on legs.
Feet red, inflamed, swollen; also the soles.
Chilblains inflamed, bluish, itching.
≡ more ...