Pulsatilla Nigricans, Pulsatila, Pratensis, Wind Flower, Pulsat, Pasque Flower, Puls.
HPUS
indication of Pulsatilla:
Weeping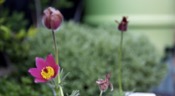 Have you ever used Pulsatilla? Yes No


Below are the main rubriks (i.e strongest indications or symptoms) of Pulsatilla in traditional homeopathic usage, not approved by the FDA.
EYES
Eyes
Oversensitive to light.
Flashing of fire, as if slapped in face.
Like a veil before eyes, better rubbing or wiping them.
Amblyopia from suppression of any bloody discharge; from metastasis of gout or rheumatism; from gastric derangements; with heart disease; with co-existing diminished hearing.
Dim sight, especially on getting warm from exercise.
Dryness of eyes and lids, with sensation as if darkened by mucus, which ought to be wiped away.
Stitches, especially from light and in sunshine.
Child frequently rubs its eye.
Pustular conjunctivitis, lachrymation more in open air or wind; discharge thick yellow, bland, profuse.
Ophthalmia, with amenorrhoea.
Lids swollen, itch, burn, not excoriated, better from rubbing; subject to styes, especially on upper lid.
Granular lids, dry, or with excessive bland secretion; better in open air, but not in wind; granulations very fine.
Stinging, tearing pains, worse in the evening; rheumatic ophthalmia.
Fistula lachrymalis, discharging pus when pressed.
Ophthalmia neonatorum; profuse yellow, purulent discharge, gluing the lids.
Gonorrhoeal ophthalmia; discharge suddenly suppressed.
≡ more ...