Pulsatilla Nigricans, Pulsatila, Pratensis, Wind Flower, Pulsat, Pasque Flower, Puls.
HPUS
indication of Pulsatilla:
Weeping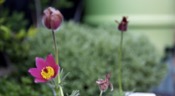 Have you ever used Pulsatilla? Yes No


Below are the main rubriks (i.e strongest indications or symptoms) of Pulsatilla in traditional homeopathic usage, not approved by the FDA.
FACE
Face
Face pale (or yellowish, with sunken eyes) and sometimes with an expression of suffering.
Painful sensitiveness of skin in face.
Boring in l. malar bone.
(Neuralgia of r. face, agg. and then amel. by warmth, tightness across forehead as from a tight-string, keeps her awake at night.)
R. T. C.).
Pallor of face, alternating with heat and redness of cheeks.
Heat and redness of r. cheek only.
Sweat on face and scalp; shuddering or one- (r.-) sided sweat of face.
Face (and nose) puffed and of a bluish red colour.
Convulsive movements and muscular palpitations in face.
Tension and sensation of swelling in face, or painful sensibility of skin, as if it were excoriated.
Erysipelas in face, with shooting pain and desquamation of skin.
Red nodosities in region of cheek-bones.
Lower lip swelled and cracked in middle.
Swelling, tension, and cracks in lips, with desquamation of skin.
Gnawing and smarting around mouth.
Sharp and contractive pain in jaws.
Swelling of submaxillary and cervical glands.
≡ more ...