Pulsatilla Nigricans, Pulsatila, Pratensis, Wind Flower, Pulsat, Pasque Flower, Puls.
HPUS
indication of Pulsatilla:
Weeping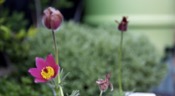 Have you ever used Pulsatilla? Yes No


Below are the main rubriks (i.e strongest indications or symptoms) of Pulsatilla in traditional homeopathic usage, not approved by the FDA.
FACE
Face
Paleness of the face,
Sudden redness of the face, with shivering on the feet and anxious trembling,
Tension of the face and of the fingers (especially if one takes hold of anything), as if the parts would become swollen,
Cheeks.
Redness of the right cheek, with violent burning in it, especially in the open air, together with heat of the right hand, with shivering of the whole body, confusion of the head, like an intoxication, and ill-humored fretfulness at every trifle (after a quarter of an hour),
Twitching of the muscles of the cheeks,
A sticking pain in the parotid gland,
Boring in the left malar bone (eleventh day),
Pressure in the bones of the right side of the face (thirty-fourth day),
A feeling as if mumps were coming on, with sense of threatening deafness (after six to seven days),
Lips.
Swelling of the lower lip, which is cracked in the middle with tensive pain,
Twitching of the lower lip for two days,
Jaws.
A small painful gland develops between the antitragus and the articulation of the jaw,
Tearing (drawing) pains in the lower jaw,
A constrictive pain, as from an acid, in the jaws, with shivering and cold sweat on the face,
≡ more ...