Pulsatilla Nigricans, Pulsatila, Pratensis, Wind Flower, Pulsat, Pasque Flower, Puls.
HPUS
indication of Pulsatilla:
Weeping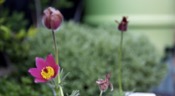 Have you ever used Pulsatilla? Yes No


Below are the main rubriks (i.e strongest indications or symptoms) of Pulsatilla in traditional homeopathic usage, not approved by the FDA.
FEVER AND CHILL
Fever
Chilliness of one side only; chilliness without thirst, often followed by fever without thirst (accompanied by vertigo and stupor); heat on one side; perspiration on one side only; want of thirst; febrile symptoms r. side.
Continuous internal chilliness even in warm room.
Thirst before chill or heat, seldom during hot stage.
Chilliness (4 p.m.) without thirst, accompanied by anxiety and dyspnoea; this is followed by a drawing pain extending from back into head, three hours later heat of whole body without any thirst, with sweat on face, drowsiness without any sleep and unconsciousness; in morning perspiration over whole body.
Coldness, shiverings, and shudderings, principally in evening or afternoon, and sometimes with paleness of face, vertigo, and dizziness, pain and heaviness in head; anxiety and oppression of chest, vomiting of mucus (when the cold stage comes on), desire to lie down, and flushes of heat.
Partial coldness and shivering, principally in back, aims, legs, hands, and feet, often with heat in head or face and redness of cheeks.
Semilateral coldness with numbness of the side affected.
Dry heat (internal), principally at night, in evening in bed or in morning, and often with fits of anguish, headache, face red and bloated, or perspiration on face, shivering on being uncovered, burning in hands, with swelling of veins, lamentations, sighs, and moans, profound or agitated sleep, anxious and quick respiration, fainting fits, with cloudiness of eyes, inclination to vomit, and loose evacuations.
Partial heat, principally on face, with redness of cheeks, hands, face, &c., often semilateral, with coldness and shivering in the opposite parts.
Heat of face or heat of one hand, with coldness of the other.
Febrile symptoms with loss of consciousness, delirium, tears, and despair, or with gastrico-mucous or bilious symptoms or with comatose sleep (or consequent upon the abuse of Quinine, with bitter taste of food and constipation).
Repugnance to external heat.
Perspiration, principally at night or towards morning; profuse and fetid sweat; semilateral or partial sweat (on head and face), and sweat with cramps on arms and hands, weariness, comatose sleep, dreamy reveries, and redness of face.
Perspiration during sleep, soon ceasing when waking.
Perspires easily during the day.
Night-sweat with stupor.
Smell of perspiration, sour, musty, like musk.
Perspiration at times cold.
≡ more ...