Pulsatilla Nigricans, Pulsatila, Pratensis, Wind Flower, Pulsat, Pasque Flower, Puls.
HPUS
indication of Pulsatilla:
Weeping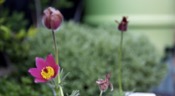 Have you ever used Pulsatilla? Yes No


Below are the main rubriks (i.e strongest indications or symptoms) of Pulsatilla in traditional homeopathic usage, not approved by the FDA.
GENERALITIES
Fatigue
Tired, worn out feeling, as from fatigue, but not better resting.
Sleep
Yawning; drowsy by day; feverish somnolence.
Sleepless after late supper, or eating too much; from ideas crowding on the mind; first part of night, sleeps late in morning.
Starts, talks, weeps, cries out in sleep.
Dreams confused, frightful; anxious.
Talking, whining and screaming during sleep.
Convulsions
Epileptic convulsions, violent tossing of limbs, followed by relaxation, disposition to vomit, eructations; from suppressed menses.
Nausea and vomiting
Hiccough after cold fruit; after drinking.
Eructations tasting and smelling of food; bitter, bilious; rancid, sour.
Nausea, with colic, ceasing after vomiting.
Nausea at throat as from a worm crawling.
Vomiting of blood, from a cold on stomach, or suppressed menses; of bilious matter; sour, green; chronic, after eating; caused by fruits, fats, pastry; ices; with pale face and chilliness.
Eating and drinking
While eating 10. After eating 13, 16, 26, 29, 37. Hot or cold food 8, 10. Cold fruit 16. After drinking 16.
Tissues
Hemorrhages, blood dark, easily coagulating.
Varicose veins; inflamed.
Circulation weak, sluggish, with paleness and constant chilliness; anaemia.
Inflammations of internal, with disposition to suppurate.
Affections of mucous surfaces; discharges thence are usually bland, yellowish-green, thick.
Emaciation, especially of suffering parts.
Chlorosis, especially after large doses of iron.
Glands swollen, painful, hot.
Scraping or tingling in periosteum; jerking boring in bones; incipiency of inflammation.
Anasarca.
Contact, Injuries, etc.
Part touched feels bruised, ulcerated; skin sensitive.
Child wants to be carried slowly.
Better from trying clothes tightly.
Concussions; bruises, especially with injury of bones, sore pain when touched.
Touch 19, 23, 33. Rubbing or wiping 5. Pressure 5, 29, 32; of clothes 19; of truss 22. Contusion 22, 32. Riding in cars 6.
Sensations
Tension in inner parts, or in joints.
Sensation of subcutaneous ulceration.
Tingling in parts lain on.
Pulsations through the whole body.
Nerves
Hysteria; symptoms ever changing.
Fainting fits, great paleness of face; shivering, coldness.
Violent trembling all over.
Nervous debility, with amenorrhoea.
Temperature and weather
Warmth 5, 34; of bed 4, 10, 26, 27. Warm room 3, 10, 40. In-doors 7. Sunshine 5. Spring 10. Cold 46. Wet weather 34. Open air 3, 5, 10. Undressing 4. Uncovering 34. Washing 40. Getting head wet 4. Wetting feet 19, 23, 34.
Generally pains better cool air; abdominal pains better warmth.
Chill, Fever and Sweat.
Cold chills all over; chilly all the time, even in a warm room; chilly with the pains.
Chilly at lower abdomen and small of back; sleepy but no sleep.
One-sided coldness, with numbness.
Flitting chilliness; chills in spots, now here, now there; worse evening.
Chill 4 P.M., no thirst; anxiety, dyspnoea; vomiting of mucus when the chill comes on.
Heat, with red face, or one cheek red and one pale.
Internal dry heat, evening or night, without external heat.
Heat of right side or on upper part of body; lessened by moving or washing.
Heat of face or of one hand, with coldness of the other; body hot, limbs cold.
Attacks of anxious heat, as if water was poured over him.
Sweat one-sided; only on face and head; more at night and in morning; soon ceasing when waking; sour, musty, at times cold; sweetish acid odor to sweat; at night, with stupid slumber.
Pains during sweat.
During apyrexia; headache; mucous diarrhoea, nausea and loss of appetite; enlarged spleen.
Attacks
Paroxysms of increasing severity.
Pains appear suddenly, leave gradually.
Wandering pains shift rapidly from part to part.
Symptoms ever changing.
Sides.
Right 10, 32, 40. Left 10, 29, 33. Above downward 21.
≡ more ...