Pulsatilla Nigricans, Pulsatila, Pratensis, Wind Flower, Pulsat, Pasque Flower, Puls.
HPUS
indication of Pulsatilla:
Weeping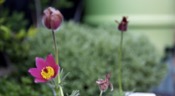 Have you ever used Pulsatilla? Yes No


Below are the main rubriks (i.e strongest indications or symptoms) of Pulsatilla in traditional homeopathic usage, not approved by the FDA.
GENITALS ETC
Urine
Increased desire; Worse when lying down
Burning in orifice of urethra during and after micturition
Involuntary micturition at night, while coughing or passing flatus
After urinating, spasmodic pain in bladder.
Urethra
Thick, yellow discharge from urethra; late stage of gonorrhoea
Male
Male; Orchitis; pain from abdomen to testicles
Genitals
Too late, scanty, thick, dark, Clotted, changeable, intermittent
Chilliness, nausea, downward pressure,
Stricture; urine passed only in drops, and stream interrupted ( Clemat.) acute prostatitis
Pain and tenesmus in urinating, Worse lying on back.
Menses
Female; Amenorrhoea ( Cimicifuga Racemosa Cimicif.; Senecio Aureus Senec.; Polygon.) Suppressed menses from wet feet, nervous debility, or chlorosis
Tardy menses
≡ more ...