Pulsatilla Nigricans, Pulsatila, Pratensis, Wind Flower, Pulsat, Pasque Flower, Puls.
HPUS
indication of Pulsatilla:
Weeping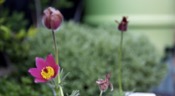 Have you ever used Pulsatilla? Yes No


Below are the main rubriks (i.e strongest indications or symptoms) of Pulsatilla in traditional homeopathic usage, not approved by the FDA.
GENITALS ETC
Urine
Tenesmus and stinging in neck of bladder.
Continued pressure on bladder, without desire to urinate.
Ischuria, with redness and heat in region of bladder.
Frequent, almost ineffectual, urging to urinate, with cutting pains.
Desire to urinate, with drawing in abdomen.
Cannot retain urine; it is passed in drops, sitting or walking; involuntary when coughing, passing wind, or during sleep, the latter especially in little girls.
Urine increased, watery, colorless; or, scanty, red-brown.
Sediment reddish, bloody or mucous, jelly-like, sticking to vessel.
Haematuria, with burning at orifice of urethra and constriction in region of navel.
Burning in urethra.
After urination, spasmodic pain in neck of bladder, extending into thighs.
At end to urination, dropping of blood.
Male
Burning of testicles, without swelling.
Orchitis, with swelling of scrotum; from cold, contusion or checked gonorrhoea.
Drawing, tensive pains, from abdomen through cords into testicles.
Itching burning on inner and upper side of prepuce.
Female
Crampy constriction of vagina; indurations; fistula; polypus.
Leucorrhoea milky, thick, with swollen vulva; acrid, burning, painless, or with cutting in abdomen.
Womb
Tensive, cutting pain in uterus, which is very sensitive to touch and during coitus.
Pains in uterus, with amenorrhoea.
Genitals
Desires too strong, almost priapism.
Long-lasting morning erections; emissions after onanism.
Sexual excesses resulting in headache; backache; limbs heavy.
Spermatic cord inflamed by a badly-fitting truss.
Hydrocele.
Prostate enlarged; feces flat, small in size; also acute prostatitis.
Gonorrhoea, with thick, yellow, or yellow-green discharge.
Prolapsus uteri, with pressure in abdomen and small of back, as from a stone; limbs tend to go to sleep; ineffectual urging to stool.
Metrorrhagia, blood changeable, stops and flows; profuse at times, at others intermittent, mixed with clots; at climaxis; in chlorosis; after abuse of quinine and iron.
Menses
First menses delayed.
Menstruation, too late, scanty and short duration; flow thick, black, clotted, or thin, watery; or changeable in appearance; flows more during day while walking.
Menses suppressed or flow intermittently; after getting feet wet; in chlorosis; from nervous debility; with throbbing headache; pressure in stomach; pain in uterus; dysuria; ophthalmia; morning nausea; or bad taste in mouth.
Pregnancy
Threatened abortion; flow ceases and then returns with double force, ceases again, and so on.
Promotes expulsion of moles.
Labor-pains deficient, irregular or sluggish; spasmodic; excite suffocation and faint spells, must have doors and windows open.
Retained placenta, want of action or spasmodic contraction.
Post-partum secondary hemorrhages from retained placenta or coagula.
After-pains too long or too violent; worse toward evening.
Lochia scanty, becoming milky; feverish, but no thirst.
Convulsions following sluggish or irregular labor-pains; unconscious; cold, clammy, pale face; stertorous breathing and full pulse.
Milk leg.
Mammae lumps in breasts of girls before puberty; or, escape of thin milk-like fluid.
Breasts swollen, rheumatic pains extend to muscles of chest, also to shoulders, neck, axillae and down the arms, change from place to place; during nursing.
Milk suddenly suppressed; lochia becomes milky, white.
After wearing beasts swell, feel stretched, tense, intensely sore; milk continues to be secreted.
≡ more ...