Pulsatilla Nigricans, Pulsatila, Pratensis, Wind Flower, Pulsat, Pasque Flower, Puls.
HPUS
indication of Pulsatilla:
Weeping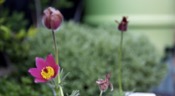 Below are the main rubriks (i.e strongest indications or symptoms) of Pulsatilla in traditional homeopathic usage, not approved by the FDA.


Have you ever used Pulsatilla? Yes No

HEAD
Head
Fatigue of head from intellectual labour.
Sensation of emptiness and confusion in head, as after long watching or after a debauch, and sometimes with great indifference.
Stupefaction in evening, in warm room, with chilliness.
Soreness as from subcutaneous ulceration in one or both temples, agg. in evening, when at rest, and in warm room; amel. by walking in open air.
Twitching-tearing in temple on which one lies, and going to the other side when turning on it; agg. in evening and on raising eyes upwards.
Congestion of blood to head, with stinging pulsation in brain, esp. when stooping.
Tickling and itching in head.
Fetid, frequently cold perspiration, at times only on one side of head and face, with great anxiety and stupor; agg. at night and towards morning, amel. after waking and rising.
Headache
Stupefying headache, with humming in head, agg. when lying or sitting quiet, or in the cold.
Pain as from a bruise in brain (as if brain were lacerated, on or soon after waking), as in typhus fever or after intoxication with brandy.
Headache as from indigestion, caused by eating fat food (or from the abuse of Merc Viv Mercury).
Pain in head as if forehead would split, or as if brain were tight, compressed, or contracted.
Headache on moving eyes deep in orbits as if forehead would fall out; and frontal bones were too thin, with dulness of head, evening.
Semilateral headache as if brain would burst and eyes fall out of head.
Shootings, or sharp drawing and jerking pains, or tingling pulsation, and boring in head.
Headache across eyes like a drawing-up and letting go again.
Roaring, buzzing, and crackling in head; or painful sensation, as if a current of air were crossing brain.
Appearance or agg. of headache in evening, after lying down, or at night, or in bed in morning, as well as on stooping, on moving eyes or head, when walking in open air, and during intellectual labour; compression sometimes amel.
Headache amel. by meditation.
Scalp
Pain in scalp on turning up hair (or on brushing hair backwards).
Purulent pustules and small tumours, with pain in scalp as from ulceration (suppurating and affecting the skull, more painful when lying on the opposite well side).
Tingling, biting-itching on scalp, mostly on temples and behind ears, followed by swelling and eruptions; sore pain; agg. in evening when undressing and on getting warm in bed.
Disposition to take cold in head, agg. when it gets wet; sweat of scalp and face.
≡ more ...