Pulsatilla Nigricans, Pulsatila, Pratensis, Wind Flower, Pulsat, Pasque Flower, Puls.
HPUS
indication of Pulsatilla:
Weeping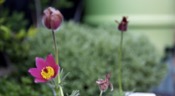 Have you ever used Pulsatilla? Yes No


Below are the main rubriks (i.e strongest indications or symptoms) of Pulsatilla in traditional homeopathic usage, not approved by the FDA.
HEAD
Head
Beating, jerking, lacerating pains, or as if in a vise.
Headache
Rheumatic headache, worse on one side, and from 5 to 10 P.M.; crazing pains into the face and teeth.
Stupefying headache, running chills, with humming in the head; worse when lying or sitting quietly or in the cold.
Headache, as if it would burst; worse from moving eyes.
Semilateral headache, also sometimes with nausea and vomiting.
Violent pain behind, on one side, as if a nail was driven in.
Headache from overloaded stomach, from pastry, fats, ice-cream.
Acute pains in temples, with giddiness.
Pain as if brain was lacerated, on or soon after awaking.
Headache worse from abuse of Merc Viv mercury; in warm room; better walking slowly in open air and from compression.
Scalp
Tingling, biting, itching on scalp, mostly on temples and behind ears, followed by swelling an eruptions; sore pain; worse evenings and when undressing; also, from getting warm in bed.
Tumors on scalp, suppurating and affecting the skull, worse lying on well side.
Outer head
Fetid, often cold, sweat, at times on one side of head and face, great anxiety and stupor; worse at night and toward morning; better after waking and rising.
Disposition to take cold on head, worse when it gets wet; head sweaty.
Inner head
Soreness, as from subcutaneous ulceration in one or both temples; worse evening at rest, in warm room; better when walking in open air.
Twitching-tearing in temple lain on; goes to other side when turning on to it; worse evenings, and on raising eyes upward.
Stinging-pulsating in brain; worse when stooping.
Pulsating in evening, and from mental exertion; throbbing, with catamenia.
≡ more ...