Pulsatilla, Pulsatila, Pratensis, Wind Flower, Pulsat, Pasque Flower Puls.
HPUS
indication of Pulsatilla Nigricans:
Weeping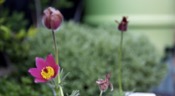 Below are the main rubriks (i.e strongest indications or symptoms) of Pulsatilla in traditional homeopathic usage, not approved by the FDA.
MIND
Mind
Weeps easily
Timid, irresolute
Fears in evening to be alone, dark, ghosts
Likes sympathy
Children like fuss and caresses
Easily discouraged
Morbid dread of the opposite sex
Religious melancholy
Given to extremes of pleasure and pain
Highly emotional
Mentally, an April day.
≡ more ...