Pulsatilla Nigricans, Pulsatila, Pratensis, Wind Flower, Pulsat, Pasque Flower, Puls.
HPUS
indication of Pulsatilla:
Weeping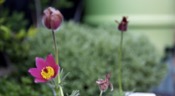 Below are the main rubriks (i.e strongest indications or symptoms) of Pulsatilla in traditional homeopathic usage, not approved by the FDA.


Have you ever used Pulsatilla? Yes No

MIND
Mind
Melancholy with sadness, tears, great uneasiness respecting one's affairs or about the health; fear of death (tremulous anguish, as if death were near), care and grief.
Involuntary laughter and weeping.
Great anguish and inquietude, mostly in precordial region, sometimes with inclination to commit suicide, palpitation of heart, heat, and necessity to loosen the dress, trembling of hands, and inclination to vomit.
Fits of anxiety, with fear of death, or of an apoplectic attack, with buzzing in ears, shiverings, and convulsive movements of fingers.
Apprehension, anthropophobia, fear of ghosts at night or in evening, with an impulse to hide or to run away, mistrust and suspicion.
Covetousness.
Taciturn madness; with sullen, cold, and wandering air, sighs, often seated with the hands joined, but without uttering any complaint.
Despair of eternal happiness, with continual praying.
Discouragement, indecision, dread of occupation, and obstructed respiration.
Disposition envious, discontented, and covetous, exhibiting itself in a wish to appropriate everything.
Caprice, with desire at one time for one thing, at another time for something else, either being rejected as soon as obtained.
Hysterical laughter after meals.
Hypochondriacal humour and moroseness, agg. evening, often with repugnance to conversation, great sensitiveness, choleric disposition, cries, and weeping.
Ill-humour, sometimes with a dread of labour, and disgust or contempt for everything.
Inadvertence, precipitation, and absence of mind.
Difficulty in expressing thoughts correctly when speaking, and tendency to omit letters when writing.
Giddiness; patient neither knows where he is nor what he does.
Great flow of very changeful ideas.
Nocturnal raving; violent delirium and loss of consciousness.
Frightful visions.
Weakness of memory.
Fixed ideas.
Stupidity.
≡ more ...