Pulsatilla Nigricans, Pulsatila, Pratensis, Wind Flower, Pulsat, Pasque Flower, Puls.
HPUS
indication of Pulsatilla:
Weeping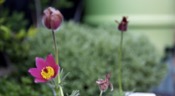 Have you ever used Pulsatilla? Yes No


Below are the main rubriks (i.e strongest indications or symptoms) of Pulsatilla in traditional homeopathic usage, not approved by the FDA.
MIND
Mind
Fancies a naked man is wrapped in her bedclothes; dreams of men.
Mania from suppressed menses.
Religious mania; sees the devil coming to take her; the world on fire during night; fear, rage in spells or weeping; forgetful during lucid moments.
Easily moved to tears or laughter.
Silent mood, disgusted at everything.
In early morn depressed, full of cares about domestic affairs.
Dread of men.
Tremulous anguish, as if death was near.
Anguish about the heart, even to suicide.
Mild, gentle, tearful, yielding, timid.
Peevish, changeable; pale; chilly. θ Children.
Envy; covetousness.
Fatigued by mental labor; head affected.
After slight emotions, difficult breathing; bad effects from fright, mortification or excessive joy.
≡ more ...