Pulsatilla Nigricans, Pulsatila, Pratensis, Wind Flower, Pulsat, Pasque Flower, Puls.
HPUS
indication of Pulsatilla:
Weeping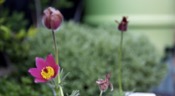 Below are the main rubriks (i.e strongest indications or symptoms) of Pulsatilla in traditional homeopathic usage, not approved by the FDA.


Have you ever used Pulsatilla? Yes No

MIND
Mind
Nervous excitement,
After eating he seems intoxicated,
Careless ease, such as is often produced by a small dose of hasheesh,
When evening comes he begins to dread ghosts, four evenings in succession; during the day anxiety and flushing heat over the whole body, though the hands and face are cold and pale,
He wishes now for this, now for that employment, but when given to him he will have nothing to do with it (after ten hours),
Satisfied with nothing, yet not vexed,
The child longs now for this, now for that, even with a good humor,
Extremely capricious and peevish at everything, even at himself,
Envious, avaricious, unsatisfied, greedy, he would gladly have everything, to himself,
Everything disgusts him; he seems averse to everything,
Anxiety at night, as from heat,
Nightly anxiety on waking, as if he had committed a crime,
Anxiety in the evening, after going to sleep, with a rush of ideas and determination of blood to the head, that forces him to get up (after five hours),
A tremulous anxiety, aggravated during rest, while sitting and lying, relieved by motion,
Anxiety; does not know what to do (before an hour),
Anxiety, thinks to die (after one hour),
Anxiety in the region of the heart, even to suicide, in the evening, associated with a sensation of qualmishness in the pit of the stomach,
Anxiety, as if he would have apoplexy, in the evening, after lying down, with chilliness, sounds in the ears like music, with twitching in the fingers of the right hand (after half an hour),
Tremulous anxiety, as if death were imminent (after one hour),
Anxiety in the afternoon, with trembling of the hands, that are spotted red, but not hot,
Anxiety, as if he were in a hot atmosphere,
Anxious solicitude about his health,
Solicitude about his household matters, in the morning,
He was very quiet,
It seems so quiet in her head and everything feels so empty that she seems alone in the house and in the world; she will speak to no one, just as if her surroundings did not exist, and she paid attention to no one,
Very discontented, weeps a long time, in the morning, after waking,
She cried a good deal, and was very low-spirited (naturally she is quite the contrary),
He sinks into a condition of sadness and despondency from disagreeable news (after twenty hours),
A gloomy, melancholy mood set in (after four hours),
Hypochondriac moroseness; is out of sorts with everything,
Morose, lachrymose, anxious,
Extremely morose, will not answer, takes everything in bad part, in the evening towards sundown,
Morose mood, breaking out into weeping, whenever interrupted in his business, about 4 P.M. (after thirty-six hours),
Extreme peevishness (after six or seven days),
Extremely ill-humored and fretful,
Ill-humored and discontented all day, without cause (after twenty-four hours),
Ill-humor (after several hours),
Fretful and without appetite, after walking about the room (after forty-eight hours),
Fretful, dread of work (after one hour),
Confused, fretful, very chilly,
Fretful, everything said to him makes him ill-humored (after half an hour),
Hasty,
Extreme irresolution,
Shuns business, is irresolute, with sighing respiration and a feeling as if he were beside himself,
He is not indifferent to his surroundings, but he will pay attention to nothing (after one hour),
More inclined to mental labor in the evening than at any other time,
He cannot at all get rid of a thought that he once grasped,
Cannot think of his business without grief, in the morning (after eight hours),
A great many wandering thoughts in his head,
Could only with great effort express himself correctly, while talking,
Mental labor affects him most of all,
When writing he omits letters,
Inattentive, does things hurriedly, does something different from what he intended to do (after two hours),
Stops talking, it frets him to answer,
≡ more ...