Pulsatilla Nigricans, Pulsatila, Pratensis, Wind Flower, Pulsat, Pasque Flower, Puls.
HPUS
indication of Pulsatilla:
Weeping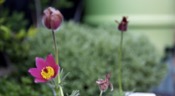 Below are the main rubriks (i.e strongest indications or symptoms) of Pulsatilla in traditional homeopathic usage, not approved by the FDA.


Have you ever used Pulsatilla? Yes No

MOUTH
Gums and teeth
Sharp, shooting pains in teeth, or drawing, jerking pains, as if the nerve were tightened, then suddenly relaxed; or pulsative, digging, and gnawing pains, often with pricking in gums.
Jerking and stinging in teeth, extending to ears and eyes.
Toothache which affects the sound as well as the carious teeth, often only semilateral, and frequently extending to face, side of head, ear, and eye, on the side affected, being sometimes accompanied by paleness in face, shivering, and dyspnoea.
Toothache agg. or appears principally in evening or afternoon or at night, as well as in heat of bed or of a room; renewed by eating, as also by partaking of anything hot, and by irritation with the toothpick amel. by cold water or fresh air.
Toothache from cold (in the first warm spring days), with otalgia, paleness of the face, and chilliness.
The toothache is also sometimes agg. by cold water as well as by fresh air or by wind; but these cases are rare.
Sensation of burning or swelling, pain as from excoriation, and pulsation in gums (agg. by the heat of the stove).
Looseness of teeth.
Saliva
Dryness of mouth in morning (without thirst).
Flow of sweetish and watery saliva from mouth, sometimes with inclination to vomit.
Constant spitting of frothy, cotton-like mucus.
Tongue
Sensation as if tongue were too large.
Tongue feels dry, and clammy.
Painful blister on r. side of tip of tongue.
Sensation in middle of tongue, even when it is moistened, as if it had been burned and were insensible; at night and in morning.
Edges of tongue feel sore as if scalded.
Tongue greatly swollen, dorsum bright red and covered with network of dilated and congested veins; varicose swelling on l. side of tongue.
Tongue loaded with a thick coating of a greyish, whitish, or yellowish colour (and covered with tough mucus).
Accumulation of tenacious mucus in mouth and on tongue; these parts are, as it were, coated with a white skin.
Cracks and painful vesicles on tongue.
Taste
Offensive smell, and even putrid fetor from mouth, principally in morning or at night, and in bed in evening.
Palate
Sensation as if the palate were swollen, or covered with tenacious mucus.
≡ more ...