Pulsatilla Nigricans, Pulsatila, Pratensis, Wind Flower, Pulsat, Pasque Flower, Puls.
HPUS
indication of Pulsatilla:
Weeping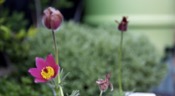 Have you ever used Pulsatilla? Yes No


Below are the main rubriks (i.e strongest indications or symptoms) of Pulsatilla in traditional homeopathic usage, not approved by the FDA.
MOUTH
Mouth
Dry in morning, without thirst.
Gums and teeth
Looseness of painful teeth.
Drawing, jerking, as if a nerve was put on the stretch and then let loose; shooting in gums.
Left side of face sensitive; stinging in decayed teeth.
Throbbing, digging in hollow teeth, with drawing extending to the eye; also, with otalgia.
Toothache worse in Spring; at night; from picking teeth; in warm room; in warmth of bed; when eating, but not from chewing; when sitting; from cold water, or from anything warm in the mouth; also during pregnancy; better walking around in open air.
Saliva
Flow of sweetish saliva.
Constant spitting of frothy, cotton-like mucus.
Tongue
Tongue white or yellow, and coated with tenacious mucus; parched, dry, no thirst; feels in middle as if burned, even when moist, night and morning; feels too broad, too large.
Edges of tongue feel sore and as if scalded.
Taste
Putrid smell from mouth, especially in morning.
Loss of taste, with catarrh; nothing tastes good.
Taste foul, especially in early morning; clammy, wants to rinse mouth often; of putrid meat, with inclination to vomit, in morning; bitter mostly after swallowing food or drink, also, evening and morning.
≡ more ...