Pulsatilla, Pulsatila, Pratensis, Wind Flower, Pulsat, Pasque Flower



Available
in 2X-30X, 200X, 2C-30C, 200C, 1M-50M, CM from $6.50
Purchase options
HPUS indication of Pulsatilla Nigricans: Weeping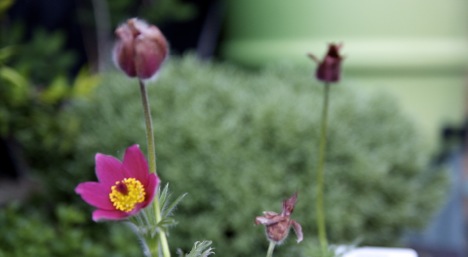 Homeopathic remedies are prescribed on the basis that in a tiny dilution like cures like, so while very dilute Pulsatilla Nigricans may help, unprocessed Pulsatilla may be best avoided.
Below are the main rubriks (i.e strongest indications or symptoms) of Pulsatilla in traditional homeopathic usage, not reviewed by the FDA.
< < Pulsatilla - main page
NOSE
Nose
Loss of smell
Large green fetid scales in nose
Yellow mucus; abundant in morning
Bad smells, as of old catarrh
Nasal bones sore.
Nose bleed
morning
evening
night
bright blood
clotted, coagulated blood
dark, black blood
pale blood
from blowing the nose
morning
during chill
with cough
when lying down
in women; with absence of menstruation
in women; before period
in women; during period
in women; when period is suppressed
periodic
during sleep
from bleeding elsewhere
warm room
after being wet
Catarrh
evening
open air
extending to frontal sinuses (lower forehead)
Coldness
Discharge from nose; right
morning
evening
bland
blood
morning, on blowing nose
burning
copious
crusts, scabs, inside
bloody
wearing away skin
fluffy, woolly
greenish
offensive smelling
fetid
from ulcer or disease of nasal bones
containing pus
right
suppressed
thick
watery
in open air
yellow
morning
evening
h-green
Dryness; inside
Sense of fullness
Inflammation
in alcoholics
Itching
evening
inside
Liquids come out through nose on attempting to swallow
Odours, imaginary and real; agreeable
bad in the morning
of coffee
fetid
offensive; morning
old catarrh
putrid
tobacco
Pain
bones
root
aching; root
pressing
bones; pressed apart
root
sore, bruised
inside
stitching, sudden, sharp
ulcerative
inside
inside; left
root, on stooping
Skin or lining of nose; abscess; at root of nose
oily
polyp (growth up nose)
powdery flaking skin nostrils (see discharges)
ulcers
inside
wings
Smell; acute, over sensitive
acute, over sensitive; sensitive to strong odours
tobacco
diminished
lost sense of smell
Snuffles (see obstruction)
in new-born infants
Swelling
evening
puffiness
Twitching (see face)
Discharge
Coryza; stoppage of right nostril, pressing pain at root of nose
Stoppage in evening
Running or blocked nose (coryza)
blocked
evening
with pus
walking in open air
warm room
behind nostrils
morning
evening
open air
from a draft of air; in snow
annual (hay fever)
with chilliness
from becoming chilled, while overheated
chronic, long-continued
from cutting the hair
running, wet
morning
evening
in open air
in warm room
dry
evening
alternating with fluent
warm room
with inflammation larynx
in strong light
from becoming overheated
suppressed
walking
during wet weather
Sneezing
morning
in bed
evening
open air
comes on suddenly; during sleep
violent
in a warm room