Pulsatilla Nigricans, Pulsatila, Pratensis, Wind Flower, Pulsat, Pasque Flower, Puls.
HPUS
indication of Pulsatilla:
Weeping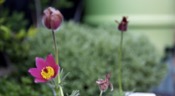 Have you ever used Pulsatilla? Yes No


Below are the main rubriks (i.e strongest indications or symptoms) of Pulsatilla in traditional homeopathic usage, not approved by the FDA.
NOSE
Nose
Pressure and pain as from an abscess in root of nose (near inner canthus, as if a lachrymal fistula would form).
The nose feels sore internally and externally.
Ulceration of nostrils and of the alć nasi (emitting a watery humour).
Discharge of fetid and greenish or yellowish pus from nose (like old catarrh).
Old catarrh, frequently a profuse discharge every morning, in mild and pleasant persons.
Nasal catarrh accompanied by special discomfort in the house, cannot breathe well in a warm room, and great amel. by going out into the open air.
Imaginary smells.
Swelling of nose.
Nasal bones pain as if they would be forced asunder.
Discharge
Blowing, of blood from nose and nasal hćmorrhage (blood coagulated; with dry coryza; with suppressed menses), sometimes with obstruction of nose.
Obstruction of nose and dry coryza, principally in evening and in the heat of a room.
Coryza with loss of taste and smell, or with discharge of thick (yellowish green) and fetid mucus.
Tickling in nose and frequent sneezing, principally in morning and evening.
Constant shivering during coryza.
Constant smell before nose, as from a coryza of long standing, or as of a mixture of coffee and tobacco.
≡ more ...