Pulsatilla Nigricans, Pulsatila, Pratensis, Wind Flower, Pulsat, Pasque Flower, Puls.
HPUS
indication of Pulsatilla:
Weeping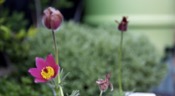 Have you ever used Pulsatilla? Yes No


Below are the main rubriks (i.e strongest indications or symptoms) of Pulsatilla in traditional homeopathic usage, not approved by the FDA.
RECTUM, ANUS, STOOL
Stool
Stools watery, only, or usually at night, sometimes unconsciously evacuated; greenish-yellow, slimy, very changeable; like bile, following rumbling in abdomen; offensive, corrosive; of white and bloody mucus.
Dysenteric stools, of clear yellow, red or green slime; pain in back, straining; tenesmus, from anus up along sacrum.
Dysentery during cholera times.
Discharge of blood and mucus during stool; face pallid; fainting; dysuria; frequent stools of mucus only, after dysentery.
Obstinate constipation, nauseous, bad taste in morning, must wash out her mouth; costive stools hard and large, after suppressed intermittent fever by quinine.
Desire for stool, insufficient or no evacuation of feces, but instead yellowish, sometimes blood-mixed mucus.
Painful protruding piles, with smarting and soreness.
Piles (blind) with menses; though generally with Pulsatilla, they bleed.
≡ more ...