Pulsatilla Nigricans, Pulsatila, Pratensis, Wind Flower, Pulsat, Pasque Flower, Puls.
HPUS
indication of Pulsatilla:
Weeping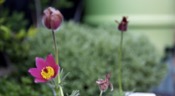 Have you ever used Pulsatilla? Yes No


Below are the main rubriks (i.e strongest indications or symptoms) of Pulsatilla in traditional homeopathic usage, not approved by the FDA.
RECTUM, ANUS, STOOL
Rectum
Painful protruding blind haemorrhoids,
Haemorrhoids, with some itching stitches in the anus,
Haemorrhoidal flux for three days,
Blind haemorrhoids, preceded by pains in the small of the back, in the morning,
Blind haemorrhoids, with sore pain (after one hour),
*Blind haemorrhoids in the evening, till about 9 o'clock, with sore pain in the anus during rest and motion, however somewhat aggravated during motion (after twenty-four hours),
Blind haemorrhoids, with itching, in the evening (after ten hours),
Blind haemorrhoids, with itching in the anus,
Profuse bleeding from the anus (after seven days),
Profuse bleeding from the anus during stool,
Discharge of blood from the anus (fluent haemorrhoids), (after eight days),
(A pressive tearing extending into the anus while standing),
Without straining in either the rectum or anus there seems to be a constant desire (in the remote intestines), without an evacuation,
Pressure in the rectum after a stool,
Persistent dull stitches in the rectum, as from incarcerated flatus (after one hour),
She had a feeling as of bad piles (to this symptom she is not subject), (after some days),
Burning in the rectum during stool,
A feeling in the rectum as of piles,
Sore pain in the anus immediately after a stool (after four and five days),
Smarting (sore) pains in the anus and in the haemorrhoids (after three hours),
Frequent desire for stool (frequent urging), as if diarrhoea would occur, from time to time,
Rectum and anus
RECTUM AND ANUS.
Stool
Diarrhoea.
Diarrhoea, with colic,
Diarrhoea as green as bile, once or twice at night, with movements in the intestines before every stool (after four days),
Watery diarrhoea at night,
Diarrhoea-like stool passed involuntarily five nights in succession during sleep, also diarrhoea three or four times during the day,
(Diarrhoea, in the morning),
Diarrhoea of green mucus (after two days),
Diarrhoea at first green, then slimy,
Slimy diarrhoea-like stool, immediately after rising, five mornings in succession,
Diarrhoea, not exhausting,
Diarrhoea, without colic,
(The faeces are thin in form and seem pressed out flat),
Stool like chopped eggs, preceded and followed by cutting pains, especially in the morning,
Frequent soft stools, mixed with mucus, also after two hours,
Frequent evacuations of only mucus, with colic before every stool, also after forty-eight hours,
Soft acrid biting stool, in the morning,
While passing watery urine, with a feeling of weakness in the loins, discharge of acrid slimy stool,
Acrid discharges with the stools,
Perfectly white stools (for four days), (after eight, and twenty-four hours, and after three days),
Stools that consist of only yellow-white mucus mixed with some blood (after twelve hours),
Bloody stools,
Fecal stool, followed by blood, in the morning (after seventy-two hours),
Is frequently obliged to go to stool, with bad color of the face (sickly expression) and faintness,
Stool daily but hard (with pain in the haemorrhoids),
Difficult stool in the morning, then during the day two more soft stools,
Constipation.
Obstinate constipation,
Difficult evacuation of stool, with painful pressure and pain in the back,
STOOL.
≡ more ...