Pulsatilla, Pulsatila, Pratensis, Wind Flower, Pulsat, Pasque Flower



Available
in 2X-30X, 200X, 2C-30C, 200C, 1M-50M, CM from $6.50
Purchase options
HPUS indication of Pulsatilla Nigricans: Weeping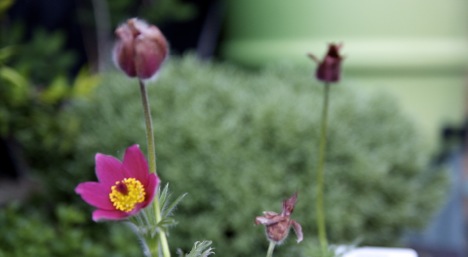 Homeopathic remedies are prescribed on the basis that in a tiny dilution like cures like, so while very dilute Pulsatilla Nigricans may help, unprocessed Pulsatilla may be best avoided.
Below are the main rubriks (i.e strongest indications or symptoms) of Pulsatilla in traditional homeopathic usage, not reviewed by the FDA.
< < Pulsatilla - main page
SKIN
Skin
Urticaria, after rich food, with diarrhoea, from delayed menses, worse undressing
Measles
Acne at puberty
Varicose veins.
Adhesion, skin sticks; to bone
Blisters
peeling off
generating pus
whitish
Chapping
Coldness
sensation of coldness
Contraction
Cracks
deep, bloody
after washing
Discoloration; bluish
bluish; spots
brown, liver spots
freckles
moles (see abnormal growths)
pale
red
after scratching
spots
spots; smarting
spots; stinging
yellow, jaundice, etc.
Dry
burning
inability to perspire (see inactivity)
Flabbiness
Abnormal growths
ulcers
gnawing, biting
bleeding
bleeding; edges
with boring
burning
burning; when touched
burning; around about ulcer
burning; in margins
as if burnt
cold air
cold application
with crawling sensation
crusty
deep
discharges; albuminous (white, thick)
discharges; bloody
discharges; brownish
discharges; copious
discharges; corrosive
discharges; green
discharges; offensive
discharges; offensive; putrid
discharges; scanty
discharges; thin
discharges; watery
discharges; whitish
discharges; yellow
with elevated, hardened margins
with deep hole (fistula)
flat (see superficial)
foul
with gnawing, biting pain
painless, slow developing
hardened
hardened; with red circle around
hardened; margins
hardened; shining
inflamed
itching
itching; around about
with jerking pain
mottled with red circle
painful
painful; from warmth of bed
painful; around about
painless
phagedenic (spreading, obstinate ulceration)
surrounded by pimples
pulsating
red with red circle
like eczema
after scratching
sensitive
sensitive; around ulcers
sensitive; margins
shining
shining; margins
shooting
smarting
stinging, sudden, sharp
stinging, sudden, sharp; in red circle around
stinging, sudden, sharp; margins
superficial
generating pus
generating pus; with pain
swollen
swollen; with red circle
swollen; margins
with tearing pain
tense
tense; with red circle
varicose
Inactivity
Inflammation
skin erysipelas (inflamed from infection, deep red colour)
erratic
after scratching
with swelling
blisters
tendency to inflame
Like insects crawling on skin
Heat without fever
on waking
Itching
evening
in bed
night
gnawing, biting
burning
crawling
jerking
must scratch; until it bleeds
must scratch; until it is raw
scratching
unchanged by scratching
smarting
stinging
tickling
erotic
wandering
on becoming warm
in bed
wool
Loss of feeling
Numbness
Out-breaks on skin
gnawing, biting
blotches
boils
burning
chicken-pox
crusty
burning
after scratching
smarting
peeling in scales
discharging, moist; white
discharging, moist; yellow
excoriated (as if grazed, chaffed)
flat
herpetic
burning
chapping
crusty
itching
jerking with pain
stinging
generating pus
tearing
zoster, zona
itching
warmth
warmth; of bed
with jerking pain
measles
from being over heated
painful
painless
patches
pimples
itching
moist
painful
after scratching
pocks
psoriasis (red patches with silvery scales)
long established
pus-filled pimples
after scratching
small
white; tips
rash (see granular)
after scratching
rose coloured patches
scabies
scabies; suppressed; with mercury and sulphur
scaly; spots
after scratching
small-pox
smarting
stinging
suppressed
generating pus
with swelling
with tearing pain
tense
tubercles (nodules, knob-like lumps); red
ulcerative with pain
like nettle rash
night
during period
nodular
after scratching
warmth and exercise
Pain; gnawing, biting
gnawing, biting; after scratching
gnawing, biting; eating at skin
after scratching
like bruising
burning
after scratching
excoriated (as if grazed, chaffed); after scratching (must scratch it raw)
excoriated (as if grazed, chaffed); between skin folds
pain after scratching
stinging
tearing; after scratching
ulcerative pain
after scratching
Sensitive
Becomes sore when lying down
in a child
feeling
Sticking
after scratching
Swelling
of parts affected with symptoms
bluish-black
burning
crawling
fluid in tissues
hard
inflamed
pale
after scratching
stinging
Swollen sensation
Tension
Generally unhealthy