Pulsatilla Nigricans, Pulsatila, Pratensis, Wind Flower, Pulsat, Pasque Flower, Puls.
HPUS
indication of Pulsatilla:
Weeping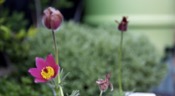 Have you ever used Pulsatilla? Yes No


Below are the main rubriks (i.e strongest indications or symptoms) of Pulsatilla in traditional homeopathic usage, not approved by the FDA.
SKIN
Skin
Pale skin.
Itching, mostly burning or pricking (as if caused by stings of ants), principally in evening, and at night in heat of bed, agg. by scratching.
Red spots, like morbilli, or nettle-rash.
Frequent redness, even when the parts are cold.
Eruptions from eating pork, itching violently in bed.
Eruptions like measles.
Rhagades.
Suppurating wounds, pus thick and too profuse.
Pus copious and yellow.
Moles or freckles in young girls.
Eruptions similar to varicella coniformis, with violent itching in bed.
Chilblains, particularly when they turn blue.
Exanthema, chapped.
Blue-black swellings.
Chilblains with bluish-red swelling, heat, and burning, or pulsative pains.
Phlegmonous erysipelas, with hardness, burning heat, and shooting pain on touching or moving parts affected.
Furunculi.
Shining redness, hardness, and itching round ulcers, with ready bleeding, and shooting, burning, and gnawing pains.
Deep or fistulous ulcers; where there is much swelling around.
Inflamed or putrid ulcers.
Varices.
≡ more ...