Pulsatilla Nigricans, Pulsatila, Pratensis, Wind Flower, Pulsat, Pasque Flower, Puls.
HPUS
indication of Pulsatilla:
Weeping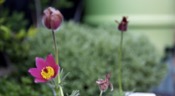 Have you ever used Pulsatilla? Yes No


Below are the main rubriks (i.e strongest indications or symptoms) of Pulsatilla in traditional homeopathic usage, not approved by the FDA.
SKIN
Skin
Eruptions, Dry.
Peeling of the epidermis down, even to the raw flesh, on the outer margin of the lips,
The epidermis of the lips becomes fissured (after two hours),
(Red, hot spots on the body, that become raised into pimples, as from the touch of burning nettles, with itching-biting pain),
Reddish spots on different parts of the body (after six to seven days),
A hard red elevation on the right cheek, in front of the ear, with burning constrictive pain (after five days),
A scurfy eruption appears on the tragus with burning-biting pain, with watery exudation, and a glandular swelling farther down on the neck that is painful to touch,
Small (not inflamed) swellings beneath the skin, above the elbow-joint, that are painful to touch,
Somewhat elevated and red spot on the back of the foot, very painful even to touch, with prickling-sticking pain, as if an ulcer would form,
An eruption of pimples upon the forehead, face, shoulders, chest, and lastly upon the back,
A large red pimple in the region of the zygoma,
A pimple on the side of the neck that itches; the itching is not relieved by scratching or rubbing (after twenty-one hours),
Eruption of pimples on the neck, below the chin, painful on touch,
Pimples on the scapulae, and as far as the middle of the back, with constant itching, especially in the evening on undressing.
(Eruption of pimple in the hollows of the knees),
Eruptions, Moist.
Several small pimples, as large as peas, containing pus, with burning-sticking pains, in the groins,
Pimples, containing water, between the fingers, with fine sticking pains, as from splinters, whenever they are touched or moved (after four days),
Pimples, oozing moisture, on the leg, with burning pains,
Eruptions, Pustular.
Boils here and there,
An abscess at the root of the nose, near the inner canthus, as if a lachrymal fistula would form,
The wing of the nose is externally ulcerated and oozes a watery moisture (after six hours),
An ulcer (that existed) is inclined to bleed,
The redness about an ulcer becomes hard and glistening,
≡ more ...