Pulsatilla, Pulsatila, Pratensis, Wind Flower, Pulsat, Pasque Flower Puls.
Available
in 3C-30C, 200C, 6X-30X, 1M-100M, 30C, 200CH from $3.99
Purchase options
HPUS
indication of Pulsatilla Nigricans:
Weeping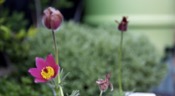 Below are the main rubriks (i.e strongest indications or symptoms) of Pulsatilla in traditional homeopathic usage, not approved by the FDA.
THROAT
Throat
As if raw and sore; stinging, with pressure and tension on swallowing; cutting, burning, during swallowing; stitches between acts of swallowing; as if swollen, or a lump in it, when swallowing.
Veins distended, throat inflamed, bluish-red.
Throat dry, worse mornings with tough mucus in throat, especially in night and morning; much tenacious mucus in throat, like potash-salts.
Sore throat, with sense of dysphagia; she feels as though she would be choked.
Worse swallowing saliva and after food.
Larynx
Hoarseness and roughness of throat; cannot speak loud; hoarseness coming and going.
Aphonia nervosa returns at every motion; last cervical vertebra feels sore, burning.
Constriction in throat, feels something there preventing speech; cannot eat, weeps.
≡ more ...