Pulsatilla Nigricans, Pulsatila, Pratensis, Wind Flower, Pulsat, Pasque Flower, Puls.
HPUS
indication of Pulsatilla:
Weeping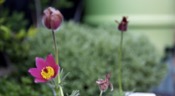 Have you ever used Pulsatilla? Yes No


Below are the main rubriks (i.e strongest indications or symptoms) of Pulsatilla in traditional homeopathic usage, not approved by the FDA.
VERTIGO, DIZZINESS
Vertigo
Vertigo as during intoxication, or vertigo to such an extent as to fall, and staggering, agg. evening, or morning when rising up, when getting up after lying down, when sitting, when stooping, when walking in open air, or after a meal, as well as on raising eyes, and often with great heaviness and heat in head, paleness of face, inclination to vomit, sleep, cloudiness of eyes, and buzzing in ears.
Meditation and conversation agg. the vertigo.
Fits of dizziness and loss of consciousness, with bluish redness and bloatedness of face, loss of motive power, violent palpitation of heart, pulse almost extinct, and respiration rattling.
The headache is often only semilateral, extending as far as ear and teeth, where it affects forehead (generally in one temple) above eyes, penetrating into sockets, or it is experienced in occiput, with painful contraction in nape of neck (with vertigo, ringing in ears, and vanishing of sight).
Headache with nausea and vomiting, or with congestion and heat in head, or else with shuddering and syncope, vertigo, cloudiness of eyes, loss of sight, and buzzing in ears, photophobia, and weeping.
≡ more ...