Snow-rose, Rhododendron Chrysanthum, Rhododendron Ferrugineum, Rhod.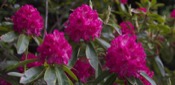 Have you ever used Rhododendron? Yes No


Below are the main rubriks (i.e strongest indications or symptoms) of Rhododendron in traditional homeopathic usage, not approved by the FDA.
ABDOMEN
Abdomen
Spasmodic pains in hypochondria.
Pain as from tension under short ribs.
Tension in the region of the spleen (when or) after stooping.
Shootings in spleen on walking quickly.
Distension of abdomen, esp. in upper part, with sensation of fulness, which hinders respiration, morning and evening.
Drawing pain in r. and (slighter) l. inguinal ring while sitting.
Appetite
Dulness of taste.
Augmented thirst.
Speedy satiety, with good appetite, followed by uneasiness.
Eating
Food has no flavour.
Gnawing, hungry sensation before a meal.
Flatus
Painful incarceration of flatus in hypochondria and loins.
Grumbling and borborygmi in abdomen, with risings and expulsion of fetid flatus.
Vomiting
Nausea, with inclination to vomit, pressure in stomach, and waterbrash, amel. by eructations.
Vomiting of green, bitter substances.
Vomiting after anything fluid, esp. cold water.
Stomach
Gulping of rancid or bitter fluid.
Empty eructations.
Aching (and heaviness) in stomach at night, or after drinking cold water.
Contractive pressure in scrobiculus with obstructed respiration.
Pressive shootings in pit of stomach and hypochondria.
≡ more ...