Snow-rose, Rhododendron Chrysanthum, Rhododendron Ferrugineum, Rhod.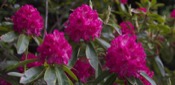 Below are the main rubriks (i.e strongest indications or symptoms) of Rhododendron in traditional homeopathic usage, not approved by the FDA.


Have you ever used Rhododendron? Yes No

ABDOMEN
Abdomen
Distention in upper part of abdomen, with dyspnoea; evening and morning.
Colic at navel, or feeling of repletion after eating.
Flatus
Much rumbling in abdomen, with eructations and discharge of fetid flatus.
Pains as from flatulence, worse in left hypochondrium.
Hypochondria
Periodical crampy pains under short ribs.
Pressing and drawing, with feeling of repletion in stomach and oppression of breathing.
Stitches in the spleen from walking fast tension when stooping.
Stomach
Pressure in stomach at night, after cold drinks.
Constriction and pressure at pit of stomach, with dyspnoea.
≡ more ...