Snow-rose, Rhododendron Chrysanthum, Rhododendron Ferrugineum, Rhod.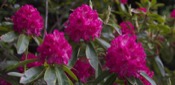 Have you ever used Rhododendron? Yes No


Below are the main rubriks (i.e strongest indications or symptoms) of Rhododendron in traditional homeopathic usage, not approved by the FDA.
BACK AND NECK
Back and neck
Rigidity of nape.
Pain in sacrum, becoming intolerable on stooping.
Wrenching or contusive pains in back and loins (agg. at rest and in rainy weather).
Small of back painful when sitting as if back had been bent too long, or as if he had been lying on it too long.
Rheumatic drawing and tearing in back and shoulders. 21. Limbs.
Rheumatic and arthritic drawing and tearings as if in the periosteum of limbs, excited by rough weather and agg. by repose.
Wrenching pain and searching drawings in joints, with redness and swelling.
Chronic rheumatism affecting the smaller joints and their ligaments.
Restlessness, tingling, weakness, and sensation of paralytic stiffness in some of the limbs.
Neck
Rheumatic tension and drawing in muscles of nape and of neck.
Stiff-neck, gums and teeth sore, pains fly about everywhere.
≡ more ...