Snow-rose, Rhododendron Chrysanthum, Rhododendron Ferrugineum, Rhod.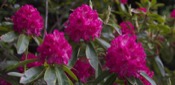 Have you ever used Rhododendron? Yes No


Below are the main rubriks (i.e strongest indications or symptoms) of Rhododendron in traditional homeopathic usage, not approved by the FDA.
CHEST
Chest
Transient, dull pain from chest to l. hypochondrium when walking fast.
Dyspnoea from constriction of chest.
Warm undulation in chest and about the heart.
Rush of blood to chest.
Bruised pain at chest externally.
Knife-like cuttings in l. chest when bending to r. and backward.
Heart
Boring pain in region of heart.
Warm undulations at heart.
(Heart irritable, pulse weak and quick.)
R. T. C.).
Pulse slow; feeble, small, and slow.
Pulse
Heart beats stronger.
Pulse slow and weak.
Respiration
Pressure at chest with obstructed respiration.
Catarrh and hoarseness of trachea.
Dry, shaking cough, with oppression of chest and roughness of throat, esp. night and morning (in paroxysms from tickling in the trachea).
Scraping cough with scanty expectoration of mucus.
≡ more ...