Snow-rose, Rhododendron Chrysanthum, Rhododendron Ferrugineum, Rhod.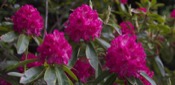 Have you ever used Rhododendron? Yes No


Below are the main rubriks (i.e strongest indications or symptoms) of Rhododendron in traditional homeopathic usage, not approved by the FDA.
EARS
Ear
Tickling in the left external meatus auditorius, changing into a pain on boring with the finger, for hours,
Violent pain in the right outer ear, commencing in the morning, and continuing nearly all day (second day),
Pain in the right ear, as if the ear were being pressed asunder (after nine hours),
Periodical boring or drawing pain in and around the ears (first days),
Darting pain in the left ear and in the left temporal region (seventh day),
Tearing sensation in and about the right ear (after two hours),
Stitches in the right ear, slow and pressing, from within outwards,
Transient stitches in the left ear (thirteenth day),
Sensation in the left ear, as if a worm were creeping in it (second day),
Hearing
Buzzing in the left ear, all the forenoon, which is most distinct when whistling,
Constant buzzing in the ears, and a sensation as if water were rushing into them; loud sounds re-echo for a long time (fourth and sixth days),
Humming and ringing before the ears (soon after taking the drug, and on the second evening while lying in bed),
Beating
Beating sensation in the left ear (thirteenth day),
≡ more ...