Snow-rose, Rhododendron Chrysanthum, Rhododendron Ferrugineum, Rhod.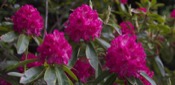 Have you ever used Rhododendron? Yes No


Below are the main rubriks (i.e strongest indications or symptoms) of Rhododendron in traditional homeopathic usage, not approved by the FDA.
EXTREMITIES, LIMBS
Upper extremities
Drawing pains in arms in rough weather.
Sensation as if the blood did not circulate in arms.
Weakness with tingling and heaviness in arms, extending to tips of fingers during repose.
Pulling and tearing in forearms and hands as if in periosteum (during wet, cold weather), agg. during repose.
Wrenching pain in joints of hands.
Sensation as if the wrists were sprained.
On small spot of metacarpal bones painful sensation as if an exostosis would form.
Increased heat in hands, even in cold weather.
Itching of r. middle and ring fingers with erysipelatous redness.
Lower extremities
Wrenching pain in joints of hip and knee.
Sensation of soreness in thighs near the genitals.
Itching of inner surface of thighs.
Sensation as if skin were cold and shrivelled in certain parts of the legs.
Perspiration on legs.
(Dropsical) swelling of legs and feet.
Feet and legs as if asleep.
Drawing and tearing in legs and feet as if in periosteum; esp. during repose.
Excessive coldness of feet, even in a warm room; cannot be got warm in bed; prevents sleep.
Pain in tendo-Achillis on stepping.
Rheumatic enlargement of great toe mistaken for bunion.
Gout with fibrous deposit (not urate of soda).
Sensation as if heavy weight were hanging to feet.
Corns on feet with shooting pain.
≡ more ...