Snow-rose, Rhododendron Chrysanthum, Rhododendron Ferrugineum, Rhod.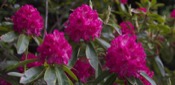 Have you ever used Rhododendron? Yes No


Below are the main rubriks (i.e strongest indications or symptoms) of Rhododendron in traditional homeopathic usage, not approved by the FDA.
EXTREMITIES, LIMBS
Extremities, limbs
Heavy, weak feeling and formication in back and limbs; worse at rest and in rough weather.
Sensation in joints as if sprained, with swelling and redness; with arthritic nodosities.
Drawing, tearing in periosteum, worse at night; in wet, stormy weather; and at rest; better in motion; mostly in forearms and lower legs.
Erratic, tearing pains in limbs.
Upper extremities
Drawing pains in arms, worse in wet weather.
Sensation as if blood ceased to circulate in arms, hands feel warm.
Lower extremities
White swelling of knee, with intolerable tearing pains, worse during rest and at night.
Sensation of coldness, skin wrinkles on lower legs.
Dropsical swelling of lower legs and feet.
Sensation in lower legs and feet as if "asleep".
≡ more ...