Snow-rose, Rhododendron Chrysanthum, Rhododendron Ferrugineum, Rhod.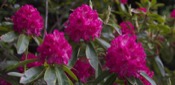 Have you ever used Rhododendron? Yes No


Below are the main rubriks (i.e strongest indications or symptoms) of Rhododendron in traditional homeopathic usage, not approved by the FDA.
EXTREMITIES, LIMBS
Extremities, limbs
EXTREMITIES.
The joints affected by gout become red, swollen, and painful,
Tremulousness of the limbs, at night,
Increase of the pains in the limbs,
The pains in the limbs seem to be seated in the bones or periosteum; they are mostly confined to small spots, and reappear on changes of weather,
The pains in the limbs are especially felt in the forearm and leg down to the fingers and toes; they soon pass off, and resemble a cramplike drawing,
Pressive pain in the joints of the left limb, worse on motion (after 50 drops),
Erratic tearing pains in the limbs (seventh day),
Creeping sensation in the limbs, causing an uneasiness, especially in the arms while at rest, which obliges him to move them (first day), and afterwards, at different periods, returning, especially in rough weather,
Prickling in the right foot and hand when walking, as when the parts go to sleep (after two hours and a half),
Insensibility of the limbs,
Insensibility and paralysis of the limbs,
The limbs go to sleep easily (first days),
≡ more ...