Snow-rose, Rhododendron Chrysanthum, Rhododendron Ferrugineum, Rhod.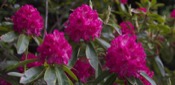 Have you ever used Rhododendron? Yes No


Below are the main rubriks (i.e strongest indications or symptoms) of Rhododendron in traditional homeopathic usage, not approved by the FDA.
FEVER AND CHILL
Fever
Chilliness in morning in bed and during day if cold air blows on him.
Shivering alternately with heat.
Augmented heat, esp. in hands.
Fever in evening with heat in head, coldness of the feet (after lying down, continuing long), burning sensation in eyes and nose, painful weariness and adipsia, followed by nocturnal heat and sleeplessness.
Sensation of heat, esp. in hands, although they feel cold to the touch.
Profuse debilitating perspiration, esp. when exercising in the open air.
Offensive-smelling perspiration in the axilla.
While perspiring the skin itches and tingles, like formication.
Perspiration with tingling and itching in skin.
Perspiration of an aromatic smell.
≡ more ...