Snow-rose, Rhododendron Chrysanthum, Rhododendron Ferrugineum, Rhod.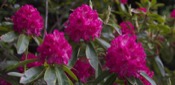 Have you ever used Rhododendron? Yes No


Below are the main rubriks (i.e strongest indications or symptoms) of Rhododendron in traditional homeopathic usage, not approved by the FDA.
HEAD
Head
Reeling sensation in head; brain feels as if surrounded with a fog.
Head bewildered in the morning after rising, with sleepiness.
Intoxication.
Tension in the forehead.
Drawing pressure in sinciput and temples, principally in bones.
Violent drawing and tearing in bones and periosteum of cranial bones; agg. when at rest, in morning; amel. from wrapping head up warmly, from dry heat and from exercise.
Aching in l. half of forehead, spreading to l. temple, continuous, agg. by wine.
Tearing boring in l. temple.
Lancinations in the sinciput and sides of the head.
Throbbing in head.
Headache
Headache (in forehead and temples) excited or agg. by wine or by cold, damp weather (amel. after rising and moving about).
Painful sensibility of the exterior of head as from subcutaneous ulceration.
Pain as from contusion or blows in the occiput.
Violent pain r. occiput as if a foreign body had been forced in.
Scalp
Gnawing itching (biting and burning) in scalp, esp. in evening.
Hair stands up as if electrified (R. T. C.).
≡ more ...