Snow-rose, Rhododendron Chrysanthum, Rhododendron Ferrugineum, Rhod.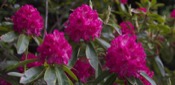 Below are the main rubriks (i.e strongest indications or symptoms) of Rhododendron in traditional homeopathic usage, not approved by the FDA.


Have you ever used Rhododendron? Yes No

HEAD
Headache
Pain in forehead and temples when lying in bed in morning; worse from drinking wine and in wet, cold weather; better after rising and moving about.
Scalp
The scalp feels sore and as if bruised.
Biting-itching on scalp, especially in evening.
Outer head
Violent drawing and tearing in bones and periosteum of cranial bones; worse when at rest; in the morning; during a thunder-storm and during wet, cold, stormy weather; better from wrapping the head up warmly; from dry heat and from exercise.
≡ more ...