Rhododendron - Mental (inc. personality) symptoms
Snow-rose, Rhododendron Chrysanthum, Rhododendron Ferrugineum, Rhod.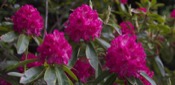 Have you ever used Rhododendron? Yes No


Below are the main rubriks (i.e strongest indications or symptoms) of Rhododendron in traditional homeopathic usage, not approved by the FDA.
MIND
Mind
Dread of a storm; particularly afraid of thunder
Forgetful.
Aversions, dislikes; open air
Behaviour; inclination to sit
Dazed
morning; after rising
Delirium
maniacal
Delusions, imaginations, hallucinations, illusions
illusions of fantasy
fire; visions of fire
visions (see visions or presence of phantoms, figures, people)
visions or presence of phantoms, figures, people; frightful
Excitement
feverish; during period
during period
Emotions, feelings, attitude, disposition
cheerful, happy
impatience; impetuous; heedless
impulsive; capriciousness
indifference, apathy, etc.
to agreeable things
to irritating, disagreeable things
irritability
sensitive, oversensitive; want of sensitiveness
unhappy; discontent, displeased, dissatisfied, etc.
unhappy; sadness, mental depression
Intellectual faculties
impaired thinking; absent-minded (see forgetful)
impaired thinking; chaotic
impaired thinking; difficulty concentrating
impaired thinking; confusion
morning
on rising
on waking
in open air
while in bed
after sexual intercourse
after rising
while walking; walking in open air
impaired thinking; dull, sluggish
morning
impaired thinking; mistakes; words; misplacing
impaired thinking; mistakes; in writing
omitting letters; words
impaired thinking; vanishing of thoughts
Insanity
mania, madness
from drinking (delirium tremors)
Insecure, uncertain, scared
anxiety
anxiety; on entering house
fear
of insanity
of thunderstorm
Memory
forgetful
forgetful; of words while speaking
weakness of memory
for what has been said
for what was about to say
Perception
senses; dull
senses; vanishing
Restlessness, nervousness
after eating
Before a thunder storm
During a thunder storm
Unconsciousness
transient; morning, on rising, drowsiness in head
≡ more ...