Snow-rose, Rhododendron Chrysanthum, Rhododendron Ferrugineum, Rhod.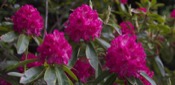 Have you ever used Rhododendron? Yes No


Below are the main rubriks (i.e strongest indications or symptoms) of Rhododendron in traditional homeopathic usage, not approved by the FDA.
MOUTH
Teeth
Nocturnal odontalgia with otalgia.
Gums and teeth
Toothache with drawing tearing in molars, in cold, damp weather; or on approach of or during a storm; agg. by touch.
Rheumatic toothache radiating from r. lower jaw to teeth.
Itching in the gums.
Swelling and pain as from excoriation between lower gums and cheek.
Tongue
Copious accumulation of saliva in mouth, with dryness of gullet and smarting vesicles under tongue.
Taste
Greenish coated tongue with bitter, putrid taste.
≡ more ...