Snow-rose, Rhododendron Chrysanthum, Rhododendron Ferrugineum, Rhod.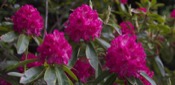 Have you ever used Rhododendron? Yes No


Below are the main rubriks (i.e strongest indications or symptoms) of Rhododendron in traditional homeopathic usage, not approved by the FDA.
RECTUM, ANUS, STOOL
Rectum
Spasmodic pain in the rectum, as if flatus had become incarcerated (after ten hours),
Sticking pain in the rectum, extending as far as under the ribs (after ten hours),
Violent drawing from the rectum to the genital organs (second day),
Crawling in the anus, as of ascarides,
Biting pain in the anus, accompanied with oozing out of a small quantity of liquid (fourth day),
Beating pain in the anus (first day), ; (fifth day),
Tenesmus, with papescent stool, for some days,
Rather strong urging for stool; the evacuation hard and expelled with difficulty,
Sudden desire for stool, but only some flatus is emitted after pressing (third and fourth days),
Desire for stool, as if diarrhoea would set in, nevertheless the natural stool is passed with much pressing (first day),
Frequent desire for stool, followed by a natural evacuation, accompanied with much pressing; it takes place in the evening instead of in the morning (third day),
No evacuation, although he experiences a desire for stool several times through the day (fourth day),
Perinaeum
The erections are preceded by a creeping sensation from the perinaeum as far as the penis,
Stool
Diarrhoea.
Diarrhoea (after thirty-six hours), , etc.
The disposition to diarrhoea returns in damp weather (third day),
Diarrhoea directly after a meal,
Occasional feeling of looseness, as if diarrhoea would set in (after ten minutes),
Diarrhoea, as soon as he rises from bed, in the morning,
Occasional diarrhoea,
Fruit occasions diarrhoea and a feeling of weakness in the stomach; while walking he heels nauseated; he has to remain seated, and experiences a feeling of qualmishness at the stomach,
Diarrhoea, a sort of lienteria; food passed undigested,
Diarrhoea, which does not cause weakness,
Food and drink cause diarrhoea, without colic,
Diarrhoea; stool spirts out as if constantly accompanied with flatus,
Two loose stools a day, evacuated with difficulty,
Loose stool, but sluggish, evacuated only after pressing,
Loose stool, expelled with pressing,
Loose and yellowish stool, but sluggish, expelled with much pressing, and insufficient; sensation as if some faeces remained behind,
Loose stool, with much pressing (third day),
The loose stool is passed with difficulty (second day),
Stools always look fermented,
Brown papescent stool,
Several papescent stools in one day, the prover being generally costive (fourth day),
Papescent stool at regular periods, the latter portion of the stool being somewhat loose and leaving a smarting sensation in the rectum,
Frequent ineffectual desire for stool, succeeded by papescent stool (first and second days),
Stool copious, black, fetid,
The faeces are not very hard, but expelled with great difficulty, and with a sensation in the anus as if its contractile power were diminished, for several days,
Constipation.
Great costiveness (fourth day),
Costiveness (third day),
Retention of stool,
Delaying stool (first day),
≡ more ...