Snow-rose, Rhododendron Chrysanthum, Rhododendron Ferrugineum, Rhod.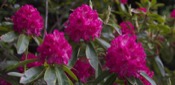 Please see our remedy relationship tool to view relationships across more than two remedies

Below are the main rubriks (i.e strongest indications or symptoms) of Rhododendron in traditional homeopathic usage, not approved by the FDA.
RELATIONSHIPS
Compare
Compare: Ampelopsis (hydrocele and renal dropsy); Dulcamara Dulc.; Rhus Tox Rhus; Nat-sulph.
Compare Arbut., Kalmia Latifolia Kalm., Led., Uva Ursi Uva ursi, and other Ericaceae. agg. Wet weather; agg. weather changes, agg. rest, amel. motion, Rhus Tox Rhus (Rhus Tox Rhus affects periosteum more than Rhod.; Rhod. amel. commencing motion, Rhus Tox Rhus agg.). agg. During thunderstorm, Natrum Carbonicum Nat. c., Phosphorus Phos., Psorinum Pso., Silicea Sil. agg. From wine, Zincum Metallicum <">Zincum Metallicum Zn. Heat in heart, Crocus Sativus Croc., Lchn., Op. Orchitis become chronic, indurated testicle, Clematis Erecta Clem., Pulsatilla Puls. (Rhod. has tendency to atrophy; and crushed feeling in testes). Orchitis, crushed sensation, Aurum Metallicum Aur., Chamomilla Cham. Wandering rheumatism agg. in wet and stormy weather; right side neuralgia, Kalmia Latifolia Kalm. Fibrous deposits in great toe, Colchicum Autumnale Colch., Led. (Led. has amel. by cold). agg. In stormy, wet weather, Dulcamara Dulc., Natrum Sulphuricum Nat. s., Nux Vomica Nux m. (Rhod. most before the storm). Diarrhoea from fruit, Rheum Rhe. amel. Wrapping up head, Silicea Sil. Sensation of subcutaneous ulceration, Pulsatilla Pul., Ran. b. Bruised pains, Arnica Arn., Conium Mac Con. One pupil contracted the other dilated, Cad. s., Phys. Hydrocele, Bryonia Bry. Intoxication, Querc. Sounds re-echo, Causticum Caust., Phosphorus Pho., Acid Phos Ph. ac., Sarsaparilla Sars. Causation.
Related
Related Rhus Tox Rhus-t
Antidotes
Antidotes to Rhodod. Bryonia Bryon., Clemat., Rhus Tox Rhus.
Antidoted by Bryonia Bry., Camphora Camph., Clematis Erecta Clem., Rhus Tox Rhus.
Relations
Stormy weather. Thunder. Sprains. Eating fruit. Getting wet Catching cold.