Toxicodendron Radicans, Poison-ivy, Rhus, Rus tox, Rhustox, Rustox, Rhus Toxicodendron, Rhus Toxicodedron, Rhus-t.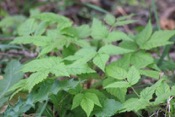 Below are the main rubriks (i.e strongest indications or symptoms) of Rhus Tox in traditional homeopathic usage, not approved by the FDA.


Have you ever used Rhus Tox? Yes No

ABDOMEN
Abdomen
Desire for milk
Great thirst, with dry mouth and throat
Pressure as from a stone ( Bryonia Bry.; Arsenicum Album Ars.) Drowsy after eating.
Violent pains, relieved by lying on abdomen
Swelling of inguinal glands
Pain in region of ascending colon
Colic, compelling to walk bent
Excessive distention after eating
Eating
Stomach; Want of appetite for any kind of food, with unquenchable thirst
Flatus
Rumbling of flatus on first rising, but disappears with continued motion.
Nausea
Bitter taste ( Cuprum Metallicum Cupr.) Nausea, vertigo, and bloated abdomen after eating
≡ more ...